#ANZEIGE
Hello Dear,
It will be time to refresh our reading corner again. Well, real we have already made acquaintance with many new books. And on the blog there will now be more often a children's book to marvel at. And I'll start with a craft book or employment book for the Little Ones – "Snip Snatch – we Tinker" by Christopher Verlag.
This book really offers something for everyone. and the best... Most of the crafting materials are all at home. Be it Empty rolls, long rolls of paper, empty egg boxes and some color... You can Creating Whole game Worlds: With Dolls, cars, whole houses and blocks of houses, forests And AND and! There are also some easy-to-understand instructions for disguises such as animal masks and hats and crowns.
We've often done something from the book. So were out of boring rolls Funny People, Kings, whole families And and and... These of course also got houses (Unfortunately I didn't take a picture of it), where they could live in and visit each other.
We also got a beautiful peacock together with Vanessa. This needs a little bit more tact when gluing, but I think Vanessa could have done it herself somehow. And the most important thing is that the little ones have fun at tinkering.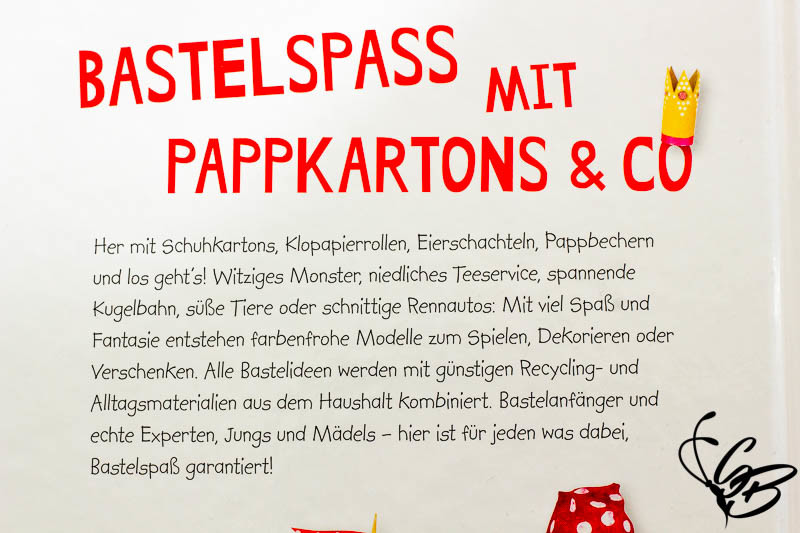 I can certainly recommend this book to you. It is varied, easy to understand and easy to imitate. Christopher Verlag Has, of course, many other craft books, coloring, etc. to offer. In the future, we will certainly have one or the other. This will certainly not make us boring even in bad weather.
Do you have any tips for me for interesting handicraft and employment books for small ones? I would like to try a lot more from this area!
Snip snap. We're tinkering!: With Klorollen, Cartons & Co
Author: Anita Schreiner
Price: €9.99
ISBN: 978-3838836102
Greetings